Patients list view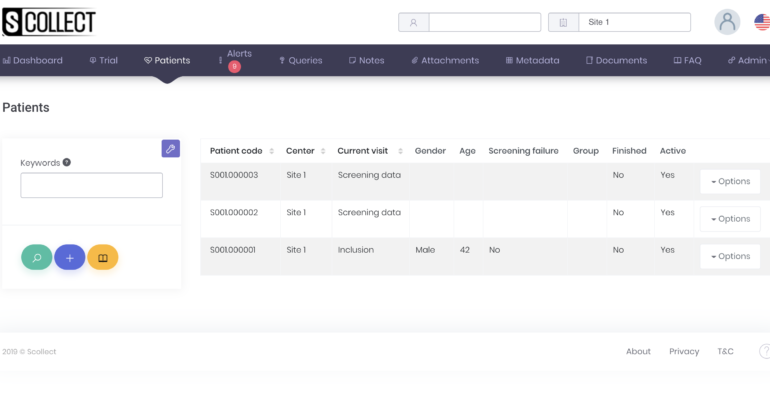 Patients list view
You can now change the patients list view clicking on the button Visits window view, this will allow you to see a general view of the patients list. You can always go back to the previous view clicking on the same button renamed as Patients data view.
Visually the list will show you the same patients and will allow you to do the same actions, but it will also show different columns with other information of interest for researchers.
SCollect also allows you to customize all the fields and the visualization of each one of them depending on the requirements of the project. This way you can customize the information showed focused on the different roles and profiles in the project.
Patients data view
Visits window view
Visit status: Color code and naming
To indicate the status of a visit SCollect uses a system of colors that guide the user in a very friendly and visual way, as well as a specific naming.
Reminder system for visits by sending email

Now you can schedule a system to send emails to the researchers as a reminder to warn that there are visits from patients whose ideal date of completion is approaching, or they are in the window or have already passed.

This system is completely open, it can be customized and detailed depending on the needs of each project.

SCollect allows both the Data Manager and the Investigator to export the table with the different views of the patients.